Multiple Income Funnel Review – Snappy Overview
Company: Multiple Income FunnelWebsite URL: Multipleincomefunnel.comOwner: Mack MillsCost: Minimum $49 Training:  3/10, Weekly Motivational + Minimal In 1st siteWebsites/Hosting Included: NoResearch Tools Included: NoWho It's For: Intermediate to ExpertOur Overall Rating: 5.7/10Trust Pilot Rating: 4.1 out of 5 Stars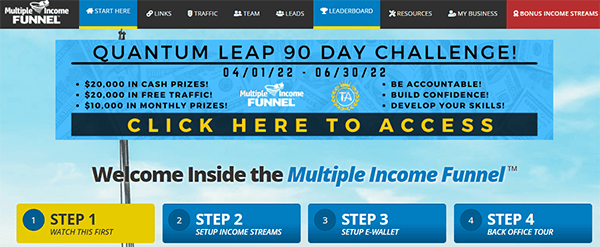 Welcome to this Multiple Income Funnel review. If you are reading this then most likely you have seen Multiple Income Funnel before and you are looking for more information.
Full disclosure I do have an account with Multiple Income Funnel, and if you click on a link and buy the product then I will be paid. I am not actively promoting Multiple Income funnel, I think it's a good product for experienced people not beginners. I've written this review to show you what MIF is, the various elements inside, what I like about it, what I don't like about it, and what I think is better for beginners.
Multiple Income Funnel – What is it?
As the name implies Multiple Income Funnel is a series of 9 income opportunities (As of Publication) that affiliates can earn from by promoting the front end product Multiple Income Funnel.
The 9 income streams are:

$49 a month
$30 a month
$100
$20 a month and up to $8397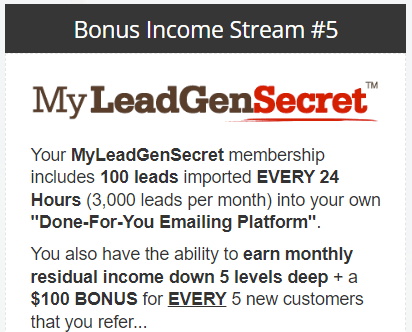 $30 a month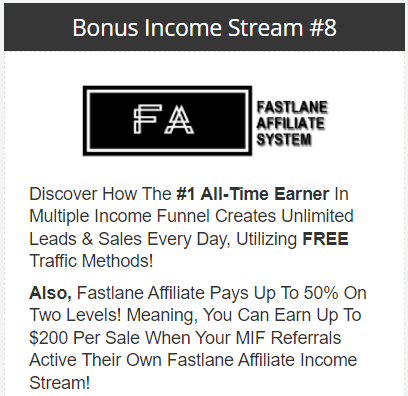 $497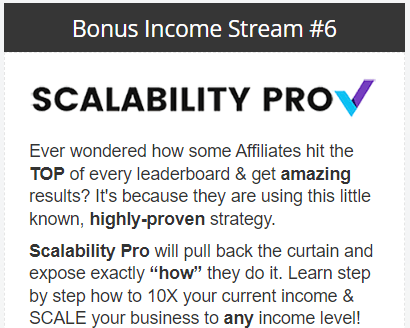 $997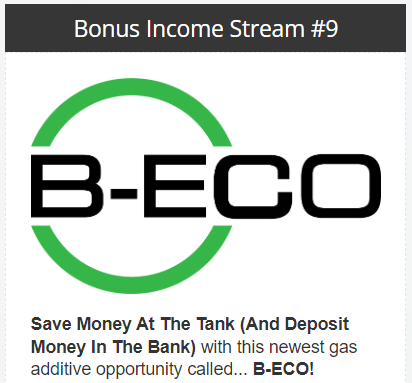 Up to  $100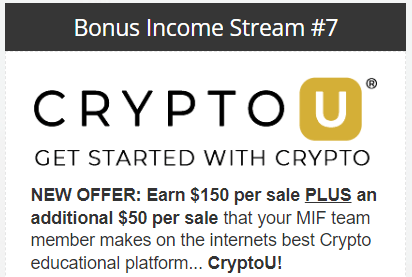 $297 the $24.95 a month
| Product  | Price | Commission | Payout | Rating |
| --- | --- | --- | --- | --- |
| MIF | $49 | $20 | Monthly | |
| PLS | $30 | $20 | Monthly | |
| Textbot | $100 | $100 | 1 off | |
| TA | $8397 | $3200 | 1 off | |
| MLGS | $30 | $5 | Monthly | |
| Sc-Pro | $997 | $240 | 1 off | |
| Crypto-U | $297 | $150 | 1 off | |
| FA | $497 | $200 | 1 off | |
| B-ECO | $50 | $17.5 | varies | |
How does Multiple Income Funnel Work
In order for a person to access MIF you need to subscribe to multipleincomefunnel.com at the rate of $49 a month or $350 a year. Obviously the yearly is much cheaper. For your $49 you will get access to a 4 step system that provides the following:
Step 1 – Is a 5 minute overview which leads the link for joining the private Facebook group, with 13000 members, and active posting.
Step 2 – Is setting up the first 4 income streams
Step 3 – Is setting up the e-wallet
Step 4 – Is a back officer tour
After you have completed the 4 steps, you are pretty much left to your own devices to work out, what to do next. You can ask in the private Facebook group but I am stubborn and decided to keep using free strategies to drive traffic which did drive the traffic to the MIF landing pages but I got very few leads or signups.
Multiple Income Funnel Review – Landing Pages
There are 8 different landing pages available consisting of 2 Facebook lead capture pages, 1 Facebook Video Sales Letter (VSL), 3 different types of standard lead capture pages and 2 standard VSL capture pages. In my case I achieved 4000 hits on two of these pages for only 28 leads. That's a 0.7% response rate, which is low.
There are range of factors that affect the response rate, one of them is the landing pages. I think these landing pages are done in terms of sending cold leads to them. Sending warm leads is another story.
Here is the main lead capture page I used. Note I have hyperlinked the image to the actual lead capture page to see the video if your interested.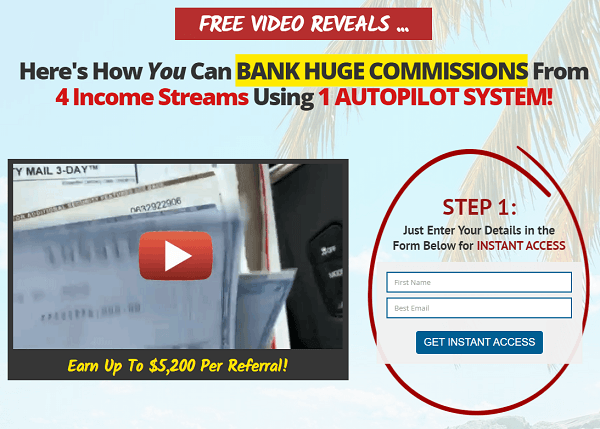 The training
I did eventually locate the training, which consisted of three separate pieces of training which are:
The 7 Steps to Success with MIF
Marketing System Success Training
Weekly MIF Training Calls
The 7 steps to success with MIF consists of 7 elements which are:
Lesson 1 – Work On You
Lesson 2 – Traffic
Lesson 3 – Follow Up
Lesson 4 – YouTube
Lesson 5 – Facebook
Lesson 6 – Time Blocking
Lesson 7 – Launch & BONUS
Marketing System Success Training  consists of 3 headings which are:
Training Intro 5 minute video
success training  – 13 videos totaling 75 Minutes consisting of:

Identifying & Harnessing Your Why
Take the success pledge
Set your goals then set your schedule
Get plugged in
Take massive action
Overcoming Skepticism
Become a product of the product
Telling your story
Beyond Money: Purpose driven goals
Positioning yourself for maximum success
TTP – Talk to people
Help the first person get the next person!
How to deal with negative people

Traffic training – 12 videos totaling 70 minutes contains:

Warm Market – Making your list
Warm Market – 'Refer-A-Friend' Email
Warm Market – 'Refer-A-Friend' Texting
Warm Market – 'Refer-A-Friend' FB Post
Warm Market – 'Refer-A-Friend' PM
Cold Market – Paid Traffic Sources
Placing Ads
Offline Methods: Drop Cards & Business Cards
The Money Is In The List
Follow Up
In total there is 150 minutes of training, which looks very similar to training someone in network marketing would receive. Is the training good or bad? It's neither good nor bad its just generic training that if you followed to the letter you would make sales, but do you have the stamina to keep going month in month out, until eventually getting a result.
This is why I think this program is more suited to intermediate to experienced internet marketers who already have a warm market that they have built over time. Beginners mostly do not have the patience to build the content or spend the money required to drive targeted traffic to the offer.
Now this is not the only training offered inside MIF most of the other income streams do have training with Fastlane profits probably the most current at a cost of $497.
What don't I like about MIF
Here are the things I don't like about MIF:
It's not beginner friendly as claimed
It's a self licking ice-cream which means the users of the product are also the promoters of the product.
The cost to make all income streams available is up around $10000. Traffic Authority is the main culprit requiring you to buy each traffic level to open affiliate profits. You can buy the diamond product at $8397 to open up commission on all levels.
The landing pages need updating
The e-mail sequences are out of date
The system is not clear for beginners.
What  I like about MIF
Here are the things I like about MIF
It's possible to make 7 figures with a good warm market
It's relatively cheap to start and test the water before committing.
The weekly training calls are good
The funnel systems is genius.
What do I think is better than MIF
To build online income it is essential that you create an asset or assets that you own and control 100%. In MIF the only thing you own is the leads, if you transfer them to an autoresponder service.
When I say an asset you own I mean an e-mail list or website that you fully control and can back up to a secure location in case your hosting provider or autoresponder crashes. You have the ability to restore your asset.
Building an asset requires, fast secure site hosting, domain name, website building software (Normally included with hosting) and an autoresponder to communicate with people who sign up to your site.
These are the basic to build your asset and the main cost is the hosting and autoresponder. Shared hosting with average speed is $3 to $6 a month and fast $10 to $20 a month. Auto responders can be free but normally start at $20 a month. Hosting is normally billed annually so you could have an upfront cost of $240 just to start.
The next biggest cost after setup is buying traffic through paid ads or generating keyword related content for your niche that is SEO optimized. Whether you buy traffic or create content yourself you are paying in $$$$ or time. MIF system does have training that can help you achieve that but the cost is significant compared to my recommendation.
My recommendation is to take training that will help you:
Understand how to make money online
How to choose a Niche or Market
How to build your own Niche website
How to setup your website
How to get your site ready for search engines
How to create the initial content
How to create custom menus
How to understand Keywords
Now all of this you can do without spending a dime, through creating a free account with Wealthy Affiliate and complete their training for free covering all these topics above including building your first website for free.
Then once you decide if an online work from anywhere business is right for you, then there is the option to upgrade your Wealthy Affiliate account to premium for $49 a month or $299 per year.
I have said Free a few times now but wealthy affiliate it is the best place to learn and grow your own asset. Just click the image below, register and begin your online journey.
Okay so you need a bit more detail. What I would suggest is have a look at the review I created for Wealthy Affiliate here https://sidegig.business/wealthy-affiliate-review/ it covers every thing you need to know.