Wealthy Affiliate Review – Insider's Perspective
If there is one thing I have learned over the years of making money online, it is that affiliate marketing is one of the best ways for complete beginners and seasoned professionals to make money online if done properly. That's where Wealthy Affiliate comes in, they have been the industry leader for over 15 years, and in this ever-changing landscape, that's incredible.
Wealthy Affiliate review – aim
The purpose of this review is to provide you with an inside look at what you can expect when you decide to use Wealthy Affiliate to learn about affiliate marketing and build your business to the level where you are living life on your turns however that looks. To achieve this review we cover all the points in the table of contents to the right.

Wealthy Affiliate Review Summary
Wealthy Affiliate background
Wealthy Affiliate was created in 2005 Kyle Loudoun and Carson Lim who still maintain ownership and are active in the community and constantly updating the training. In 2005 the two joined forces with the goal of creating a training space for people to learn what they were doing. Fast forward to today and Kyle has taken on more of a lead trainer role while Carson works more on the technical aspects of the business. This is a partnership that has stood the test of time thankfully, not many have.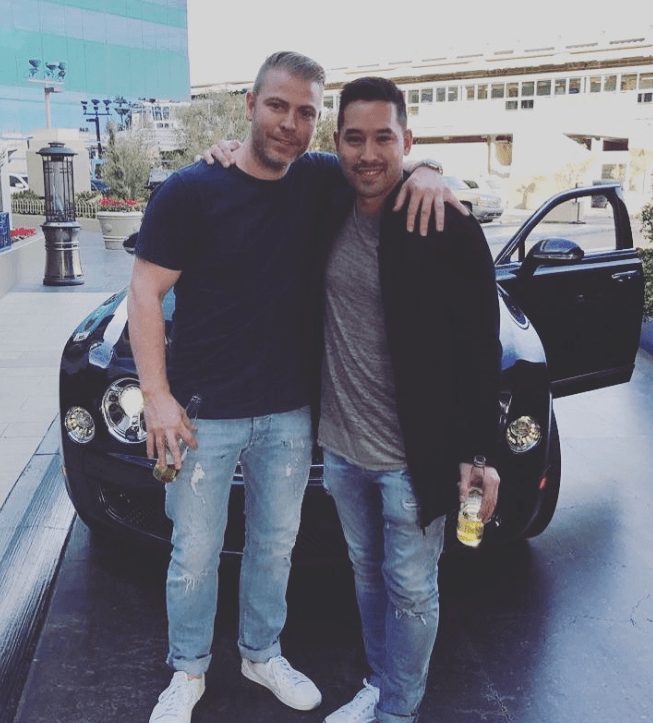 How Does Wealthy Affiliate Achieve your Affiliate Goals
Wealthy Affiliate provides a safe and secure place for people from all walks of life to start or continue their affiliate marketing journey, by providing free and paid access to affiliate marketing training, free website and hosting, paid lightning-fast managed hosting, free training, and two levels of paid training, fast site support 24/7, generous affiliate program and research tools.
The previous was the formal bit about Wealthy Affiliate, but the reality is Wealthy Affiliate is a bit like a business club for affiliate marketers where you are guided to set the foundation for your business, then learn from the latest training and other people.
Wealthy Affiliate Training
There are two types of training: affiliate training that focuses on affiliate marketing and training that focuses on affiliate marketing promoting Wealthy Affiliate. There is a third type called classes which we discuss further down. <<Access here>>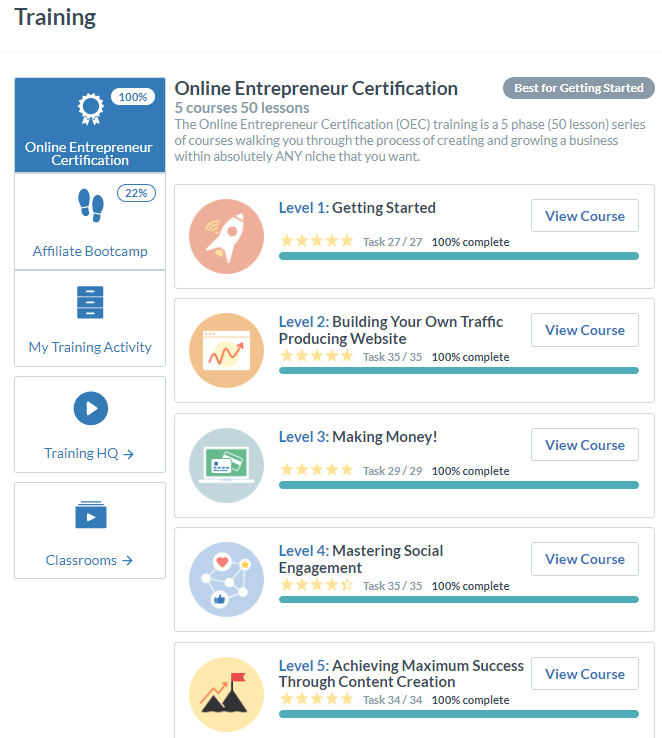 Certification Core Training Level 1 consists of 10 learning modules that teach how to build your first domain and includes:
Getting rolling – 3 tasks
Understanding how to make money online – 4 tasks
Choose a niche – 2 tasks
Building your own niche website – 2 tasks
Setting up your website – 4 tasks
Getting your site ready for search engines – 2 tasks
Creating your initial website content – 3 tasks
Creating custom menus on your website – 2 tasks
Understanding keywords, the start of your content – 3 tasks
Congratulations and your next step – 2 tasks
See the complete level 1 breakdown here Click Me
Click below to jump to the other OEC training levels
The OEC training is very good contemporary training that teaches you to be a competent online Entrepreneur in the Affiliate Marketing space
Bootcamp Core Training Level 1 Getting Your Business Rolling, consists of 10 learning modules that teach how to build an affiliate marketing business using Wealthy Affiliate as the affiliate program. Level 1 consists of:
Getting Started! 0/4 Tasks Complete
Choosing Your Direction 0/3 Tasks Complete
Building Your Website 0/3 Tasks Complete
Your Initial Website Housekeeping Tasks 0/4 Tasks Complete
Activating Your Plugins 0/2 Tasks Complete
Getting Your Website Ready for SEO 0/2 Tasks Complete
Your Initial Framework Of Content 0/3 Tasks Complete
Creating a Custom Menus & Navigation 0/2 Tasks Complete
Understanding the Importance of Keywords in Your Business 0/3 Tasks
The Exciting Journey Has Begun 0/2 Tasks Complete
Premium members have access to the following additional training products:
Certification Core Training Level 1-5 (50 lessons)
Bootcamp Core Training Level 1-7 (70 lessons)
1000+ Training Modules
All Levels Core Training
52+ Expert Classes Per Year
Bootcamp Core Training Level 1-7 (70 lessons)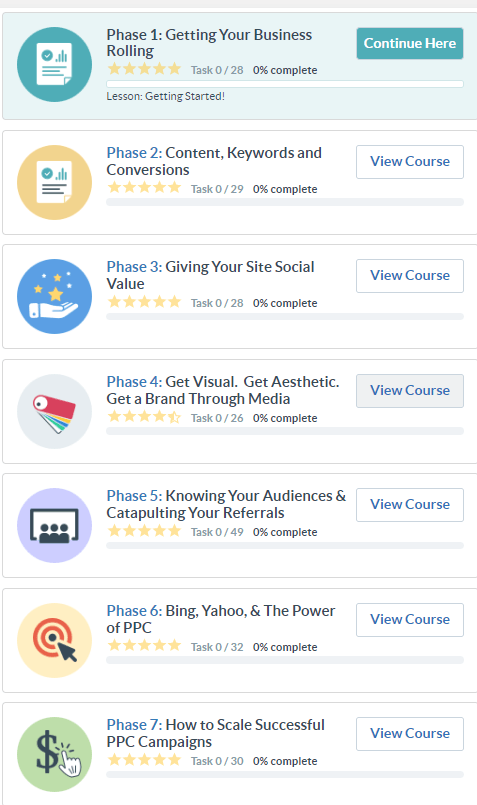 1000+ Training Modules – Here is a sample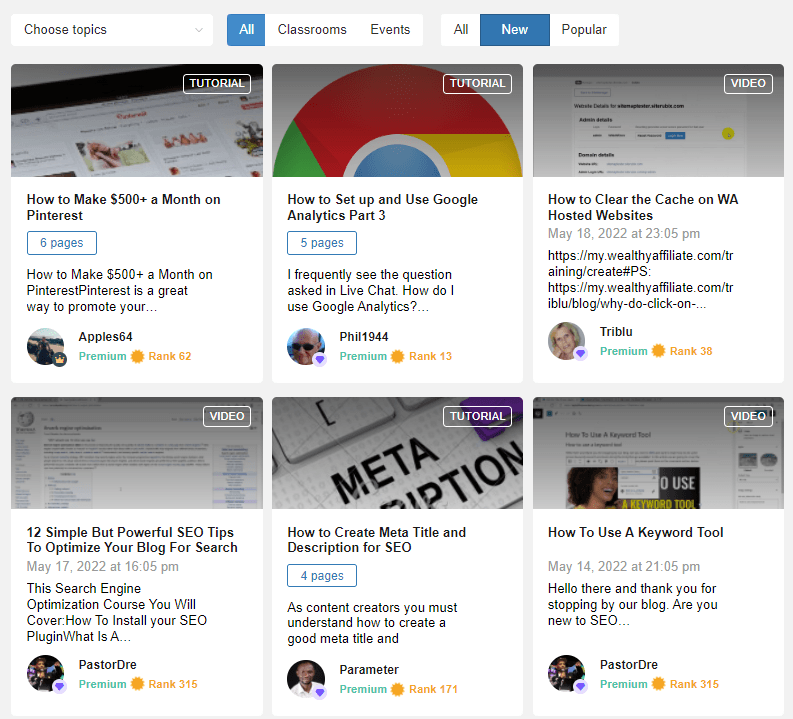 All Levels Core Training – Here is a sample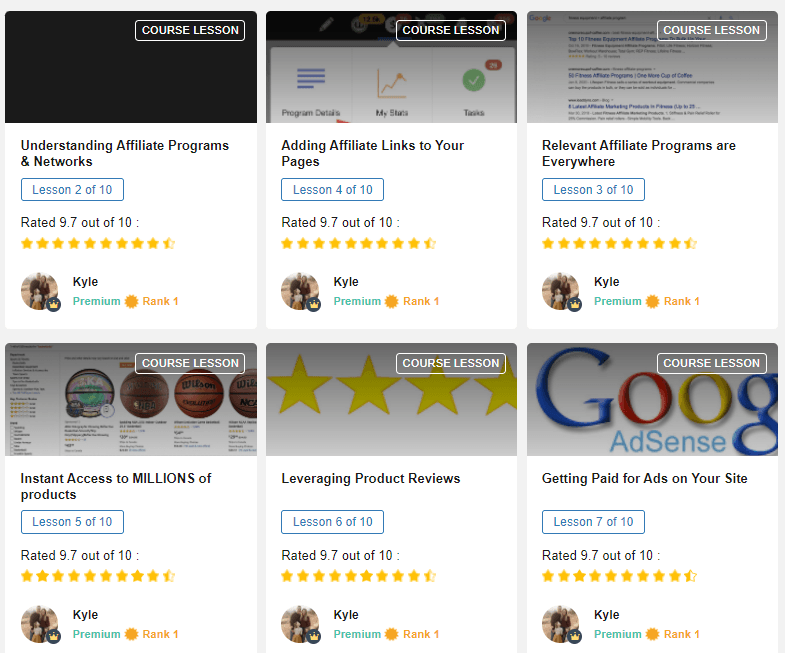 Classes
Premium Plus in the training space has access to 200 expert classes per year instead of the 52 in the premium membership. Here is a sample.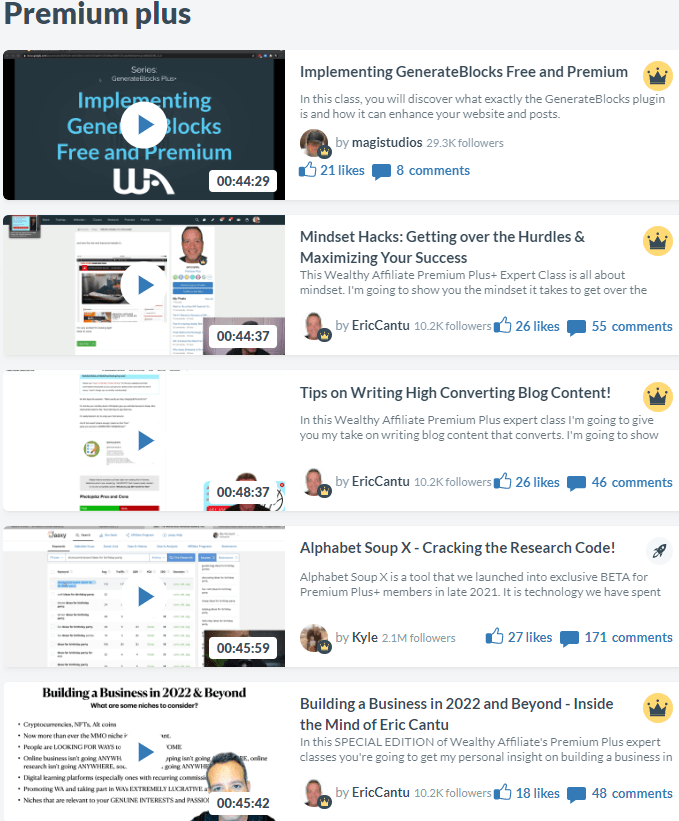 Wealthy Affiliate Website hosting and support
Wealthy Affiliate as part of your membership provides different levels of hosting and support as can be seen in the image below. This element was the main reason I decided to re-join so that I could host my websites with wealthy affiliates. The way I justified it was paying around 5 to 600 a year in hosting, with crap support nil affiliate training or support from the community here.
The support here has been nothing short of amazing, and the reason I say that with the cheap shared hosting I have waited days for a response from their support teams and lost thousands. My experience with Wealthy Affiliate is that most support requests are rectified within about 30 minutes of requesting and the longest I have waited for a response has been 1 hour.
In regards to the cost yes it's free but the reality is if you are going to build a business you need to invest in resources and training, and $49 a month is pretty good for what you receive, plus Wealthy Affiliate regularly has sales where premium is $299 and premium plus is $499.
Website services and tools by membership level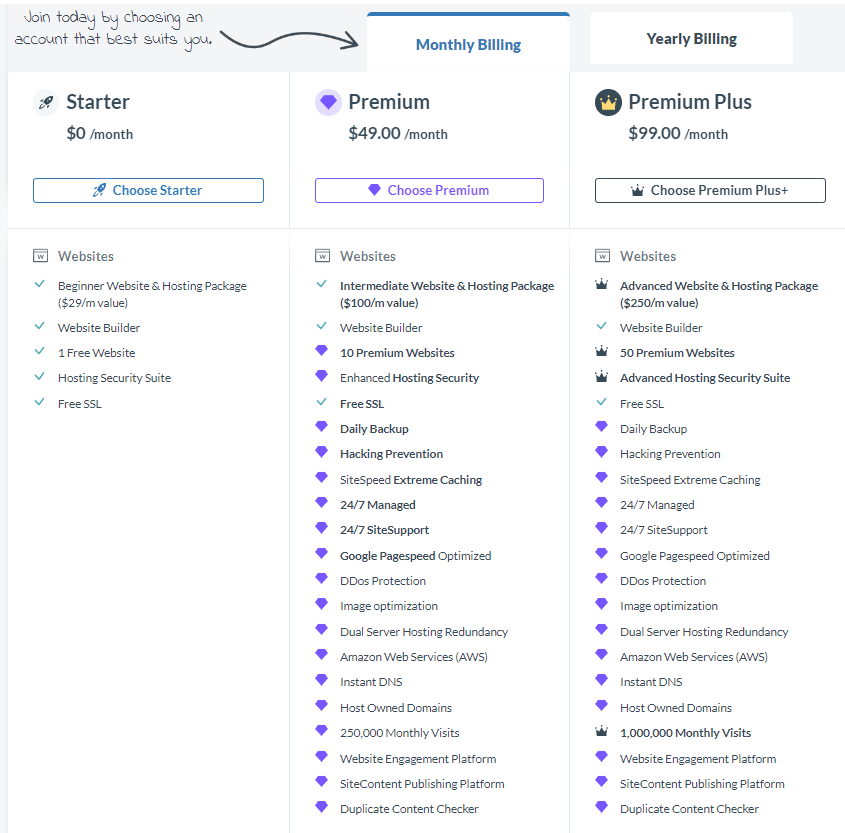 Wealthy Affiliate Support and Research
In the image below you will see the levels of support and access to research tools by membership levels. When I first started I started with the starter level and to be honest I was a bit lost to start with but what I did was follow the steps and eventually upgraded to premium, and this year I have upgraded to Premium Plus. With regards to support this has been an area that has really surprised me because I am used to bad support from my previous hosting providers. The support I have received has been first class and fast, which is super important if you are having problems with your site or the training.
Of all the tools available from Wealthy Affiliate their keyword tool is probably the one thing I am least impressed with. It's functional and will help you get started without having to pay for another service, and they have recently added what they call alphabet soup which I am testing at the moment, but some of the depth of information from other providers is not found in the Jaxxy keyword tool.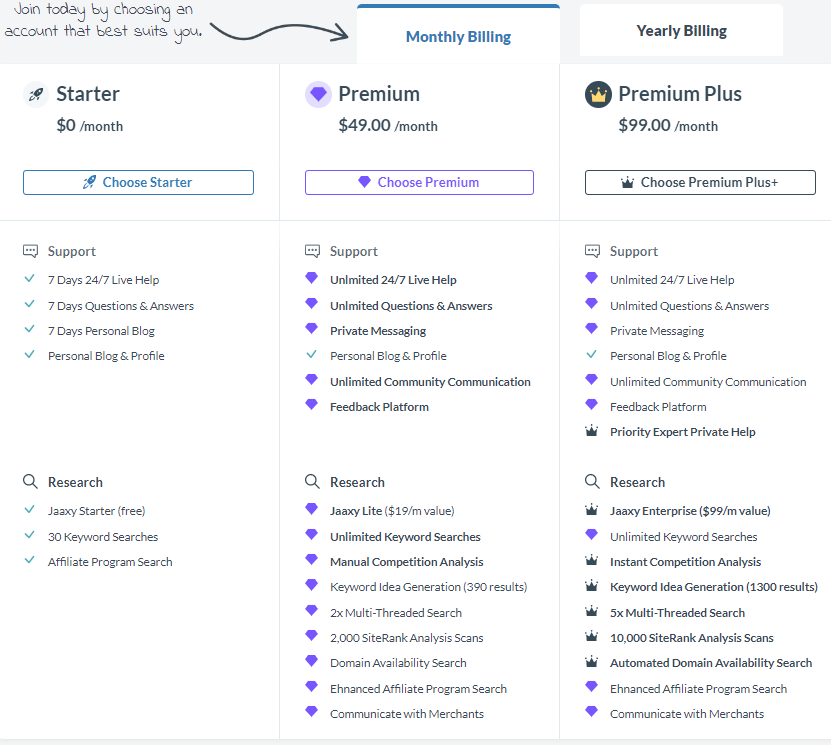 How much does Wealthy Affiliate cost?
You will see on some of the images the costs for Wealthy Affiliate. To recap there is free, premium and premium plus. What's important to know is the sales that occur, for example, I was able to upgrade to yearly premium plus for $499, I have seen premium yearly for $300 and free well that's always free.
Is Wealthy Affiliate a SCAM
Upfront it is not a SCAM.
If you are willing to put the time into the learning and apply the learning then you will succeed. It's not a matter of if you will succeed it's a matter of when. If you are a person who is willing to put in the time and effort to follow and apply the training, ask questions, and get help then you will achieve your goals by using Wealthy Affiliate.
If you are looking for a quick way to make money using black hat techniques then Wealthy Affiliate won't work for you. 
If you need support send me a message inside Wealthy Affiliate, I will help you to achieve your goals
Can Free Members make money?
As a free member, you are able to make a free website. This site is a taster to provide you with some fundamentals, which could lead to affiliate sales, but because they are siterubrix subdomains the articles on the free site are unlikely to be ranked. But what you can do is drive traffic to your free website using free traffic-generating methods. With the right audience, it would be possible that you would make affiliate commissions.
The problem with this approach is when you stop promoting so does your income, which is why the focus is to build a quality site that works while you are sleeping or away 24/7. Wealthy Affiliate teaches you how to do this.
What are the good bits?
This is what I like about Wealthy Affiliate
What I receive for the price. I think the hosting and support is excellent
The training – It is one of the few places you can start for free make some money, and then upgrade if you want.
Wealthy Affiliate teaches a tried and true method to achieve financial independence.
The support – Having access to the wealth of knowledge on this platform is amazing
The weakly classes – I can never make them live but the recordings are available 24/7 and I can digest them at my leisure
The training for free members is really good
The ability to get comments on posts and pages
Simple affiliate program finder
The affiliate program has a nice in-built autoresponder
What are the bad bits
The emphasis on free members upgrading in 7 days for a small financial benefit. 
There is no auto-responder e-mail service for hosted website
Some of the navigation can be a little clunky – nothing specific just a vibe I have.
What are the ugly
In the past, there used to be a lot of self-promotion, which is now a thing of the past. A lot of negative reviews talk about outdated training and it is true there is still video on the site from the beginning. Some of that is still valid but the majority is not and should be archived. Lots of the core content has been updated.
Why I came back
I first became a member of Wealthy Affiliate in 2013 and stayed for about 2 years with moderate success. A new job took my attention away from making money online, and I have been monitoring the industry from afar. 
This year (2022) I came back into the industry and I had been reviewing the cost of hosting websites, and was looking for a program with a good affiliate model which I could hand on my heart, and say was a good program.
I was paying around $600 a year for hosting because, speed is the name of the game, so I went premium mostly for that reason and the training is a nice bonus.
Conclusion
I have been back at Wealthy Affiliate now for just over 6 months now, and have recently realized how little I knew. I have recently upgraded my keyword research skill which I have started to put into practice. My SEO knowledge and application is now at a point where I feel reasonably confident that I am doing the right things, and the rankings are starting to reflect that. Having a business that pays you 24/7 is a constant learning process that rewards the persistent very well.
In closing, I think Wealthy Affiliate is the premier affiliate marketing training and hosting platform for any sized affiliate business.
If you would like to see what it's about >>Click Me<<