What is My Lead Gen Secret
My Lead Gen Secret is a company that provides 100 leads a day or 200 leads a day to subscribers. In essence for $1, a day subscribers receive 100 or 200 predominately USA leads a day. To receive 200 leads a day requires a referred paying signup.
MyLeadGen Secret was created by Jim Harmon more on him later, for people in the make money online, internet marketing niches as a place to get cheap leads.
Affiliate disclosure, some of the links on this site are affiliate links where I receive a small commission if you buy the product or service the link refers to. There is no difference between buying through a link from this site or directly from the company. You can read more about my affiliate disclosure here.
Review Summary
Company: MyLeadGenSecret
Website URL: https://www.myleadgensecret.com/
Owners: Jim Harmon
Cost: Initial $60 then $30 a month
Training:  Nil
Websites/Hosting Included: Nil
Research Tools Included: Nil
Who It's For: People looking for cheap leads
Our Overall Rating:   5/10
Trust Pilot Rating: Nil
About The Creator Jim Harmon
The name attributed to the creation of My Lead Gen Secret is Jim Harmon. The only social media I could find associated with Jim Harmon was Facebook My Lead Gen Secrets page and a Twitter account. Jim may be a very private person but normally there is some social media presence. Is this a red flag, no more of an amber flag at this time, let's see what else we find.
Let's get a bit more granular
Jims My Lead Gen Secret website offers you 100 or 200 leads a day, able to download daily leads, a custom-built mailing system, an affiliate program, Master e-mail swipes, statistics and recommended advertising.
Let's cut to the chase, are the leads any good or not. The answer is yes and no. I joined My Lead Gen Secret 6 months ago to test the system. Initially, I did not know that I could download the leads until recently, since downloading the leads I can see that they are 95% USA leads, but I don't know how old they are or how they came into the system. For these reasons, I treat these leads as cold leads.
For cold leads that you know are in the Business Opportunity and Internet Marketing then $1 per day is not that bad if you know how to convert cold leads to buyer leads. If you don't know how to convert cold leads then $1 a day may not be that great. The other good thing is these leads are CAN-SPAM compliant.
Download Daily Leads
It's true on day one you can download 100 leads. This feature is one of the saving graces of My Lead Gen Secrets because the money is in the list, and if that list is on your hard drive, and something happens to My Lead Gen Secret, then your investment is still secured.
One strategy you can do with these leads is to upload them to your mailing system and send them an invitation to a free gift. This will then give you warm leads to develop a relationship with. Word of caution when doing this you run the risk of having your main e-mail system being flagged for CAN-SPAM and you do not want that. There is a better way explained below.
Custom-built mailing system
The mailing system inside My Lead Gen Secret is workable. The editor is minimal but functional. The one element of the mailing system that is great is its simplicity to use. If you have an e-mail copy and title ready then it takes about 20 seconds to send your broadcast. It takes even less to resend the broadcast the next day by clicking one button to load previous broadcasts and then clicking send.
The mailing system enables you to send 1 mail every 23 hours to all of your accrued leads, as well as to prioritize the timing of the mail to the peak time of your leads. I like the inbuilt mailing system because mail can be sent to the leads without having to upload to my primary mailing system and potentially risk my primary mailing system being flagged.
The results so far
I started testing My Lead Gen Secrets in January of this year, and as of today, there are 16600 I have access to in the system. I could have had double that if I had created another account but I wanted to test at the bare minimum. For the first three months, I was focused on sending mail with direct links to affiliate offers, and I did not make one brass razoo.
After three months I changed tactics because offering the affiliate product directly strategy was not doing it for me. What I did was partner with a company that offers free affiliate marketing training. The screenshot below details the results over the last 10 days.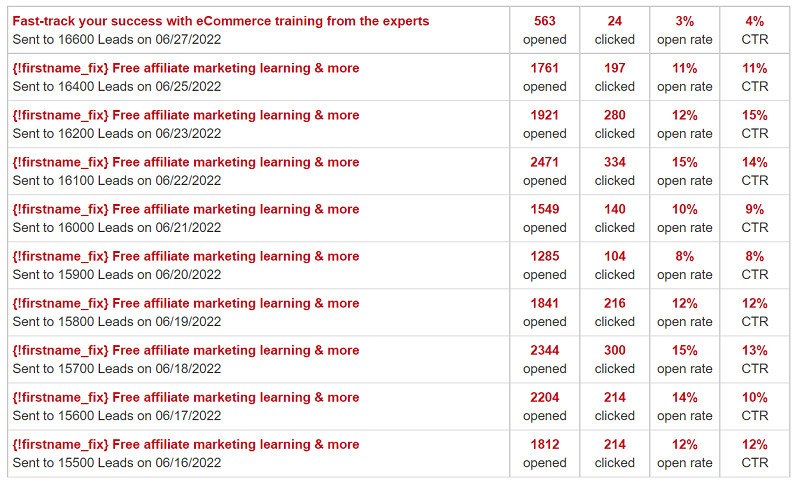 The fast track to your success with eCommerce training from the experts has another 12 hours to run so I expect those results to rise. The remainder is the copy I created which you can see has produced good Click-Through Rates so I am happy with those results.
These leads have resulted in 17 people registering for the free affiliate training I partnered with, which is not many but this has been a learning process to discover what these leads like. Next, I will be releasing a free list building course which will be offered to these leads so that my funnel can build relationships with these people to encourage them to buy the products I recommend.
My Results so far have averaged around the 12% open rate, and 12% CTR which means the e-mail is doing its job, of getting traffic to the landing page. But the results from the landing page indicate it needs a lot of work. This in my opinion is what needs to be done to receive the most out of these leads. Offer something of value to fill your funnel then gain the trust through your content.
My Lead Gen Secrets – Affiliate Program
The affiliate program in My Lead Gen secrets is okay. Here are the details:
$5/month on personal membership sales
$4/month on your personally sponsored Affiliate's membership sales
$3/month on the membership sales of the people they personally sponsor
$2/month on levels 4
$1/month on level 5
This structure is exactly like Multi-Level Marketing companies, and the success or failure of this model depends on the owners of the company. Some of the numbers can get quite large, in this case, if someone on level 5 made a sale then the total payout would be $15 maximum, which means the company is receiving $15 per sign-up.
I do know people who are earning 2 to $3000 a month from just this one source. There is money to be made with this platform and how well you do would depend on your efforts.
PROS
What I like about My Lead Gen Secrets is that platform is simple, you subscribe to receive 100 leads a day and mail those people once every day and that is exactly what you get, while you remain a subscriber. It's a known quantity and takes very little time to send your daily mail.
CONS
What I don't like about My Lead Gen Secrets is the leads are cold, and how they are acquired is not known. The effect of this is you have to work out what the leads are interested in.
Other ways to use My Lead Gen Secret
Direct sell to the leads, not recommended for new people, really needs to have 10000 leads in the bank to potentially get a result. 10000 leads will take 3 months without a referral or a month and a half with a referral. You could promote My Lead Gen Secret to the leads you are getting but would need at least 10000 leads in the bank before you might get results.
Conclusion
Is My Lead Gen Secret a SCAM? In my opinion no, but will most likely take you six months to start making money. If you are looking for cheap leads that can be enticed by a free offer then this is one option to consider.  Overall I think My Lead Gen Secrets is okay, it's cheap and functional and does what you pay for.
Click this banner to access MLGS

If you are looking for a consistently reliable way to make money online then head over to my review of Wealthy Affiliate.