Let's be clear an Affiliate is you or perhaps you in the near future, and what you are doing is promoting a product or service owned by the vendor who pays you when a sale of the product or service is made. 
An affiliate marketing program is normally the detail surrounding the requirements or conditions that you as an affiliate must meet before being paid. Affiliate marketing programs are unique to the business or individual who created the program. Each company or affiliate platform will have unique requirements that you need to fully understand before becoming an affiliate of the program. 
What are the Best Types of Affiliate Marketing Programs?
Affiliate marketing is performance-based marketing in which a business rewards one or more affiliates for each visitor or customer brought by the affiliate's marketing efforts.
The four main types of affiliate transactions are:
1. Cost per sale – Self-explanatory, you send traffic to the product or service. When an item is bought and you get paid
2. Cost per action – In this case the vendor wants a new customer to perform an action, this could be watching a video for a specific period of time, completing a survey or entering a competition. You send traffic to the link and get paid when the specified action is taken
3. Cost per lead – A lead is someone that the vendor can contact about their product or service. When you send a lead to the vendor then you will receive a payout. 
4. Pay Per Click (PPC) – PPC affiliate programs can be used across most of the internet. In essence, you receive a link that you send traffic to. Every time the link is clicked you will be paid. This type of program has low payouts per click but can be very profitable if you can send traffic to the link at less than what you will be paid.  
The best types of affiliate marketing programs are those that pay you and have clear advice on what constitutes an event that results in a commission. Each of the above affiliate transactions can be used in various combinations to achieve the aim of the vendor. The vendor will normally design their affiliate program to attract people like you.
There is no best program, there is only one or more that works for you. 
What Are Some Examples of Successful Affiliate Marketing Programs?
There are many examples of successful affiliate marketers and programs in digital products. One example is the Amazon Associates Program, which rewards affiliates with up to 10% in commission for referring customers to Amazon.com. Other examples include the Commission Junction Affiliate Network, which pays up to 30% commission for referring customers, and ClickBank, which offers commissions of up to 60% on digital goods sold.
Most major companies will have an affiliate program. Companies like Fiverr, Walmart, eBay Partner Network and DFO Global have affiliate marketing programs. 
Fiverr Affiliate Program
Fiverr affiliate program – The Fiverr affiliate program offers a range of different products across their complete range which would be useful for various niches. Let's say you were in the NFT niche and your site talks about NFT design, you could link to a Fiverr gig that designs NFT. You could also review NFT designers from Fiverr on your site then run a google CPA ad on your site with the potential detail in the image below. 

The fiver affiliate program offers additional income opportunities with the Fiverr affiliates program the most interesting to me followed by the Fiverr learn. The way I would set this up is a website focused on affiliate marketing like this one, that offers training in affiliate marketing (Comming to this site soon) that teaches how to use the Fiverr affiliate program, potentially using the Fiverr learn program as a learning tool.

Walmart's Affiliate Program
Walmart's Affiliate Program enables affiliates to earn commission through the use of banner ads or text links on their website and referring customers. Affiliates earn each time a visitor follows a link and then completes a qualifying purchase — The commission is up to 4% on each eligible sale. 
Walmart FAQ is located here Click me but the basic premise is you register as an affiliate, each week Walmart will send you an e-mail with links and banners for their products. If your site is approved then you can place these links and banners on your site and potential to earn a commission.
Now 4% doesn't sound like a decent commission but if you have decent daily traffic flow it could build into a decent daily income. Think about this if you could build traffic to 1000 people a day and 1% of those people made a $20 purchase that would be 8 dollars a day. That equates to $240 a month or $2880 a year, not too bad and would cover your site operating costs.
Who is this affiliate program for, I would say for a hobby site, apparel site, or bargain site. 
Niches – Varied  Type – Digital Service  Commission – Varied  Cookie Duration – Varied

eBay Partner Network
The eBay partner network affiliate marketing program is similar to the Walmart program. The top commission is 4% according to the rate card on their website.
There are many different niches that can be used to market eBay products. The top commission niches are fashion and eBay motors paying the most commission. The key categories in the eBay global marketplace are Watches Trading cards Sneakers Auto parts & accessories and eBay Refurbished.
If you are considering adding the eBay partner program to your affiliate program then I recommend using the eBay Refurbished program purely because it covers many niches. That being said all of these key categories would be suitable for creating a niche website.
Niches – Varied  Type – Digital Service  Commission – 4%  Cookie Duration – 30 days
---
DFO Global
When looking for a high-quality affiliate network to work with, DFO Global is a program that works well. Once approved you have access to a wide range of e-commerce products in a closed, safe, and brand-protected environment, with high covering offers and high payouts as a reward. DFO Global is a program that is worth investing time and effort into – with top-notch data analytics and responsive managers at your disposal.
Niches – Varied  Type – Digital Service  Commission – Varied  Cookie Duration – Varied
---
How to find out if a product or service has an affiliate program
Finding out if a product or service has an affiliate program can be as simple as a google search company XYZ affiliate program or it can be difficult if the company's affiliate program is managed by a partner company, like Commission Junction or ShareASale. 
How to Choose an affiliate program that Fits Your Needs
For some people choosing an affiliate program is easy and for others it is difficult. Generally, if you are finding it difficult go with what you are passionate about or have some passing knowledge about a niche.  Once you decide on a niche then look for an affiliate program that fits with that niche. I normally use the Affiliate program search feature at Wealthy Affiliate to find programs of interest.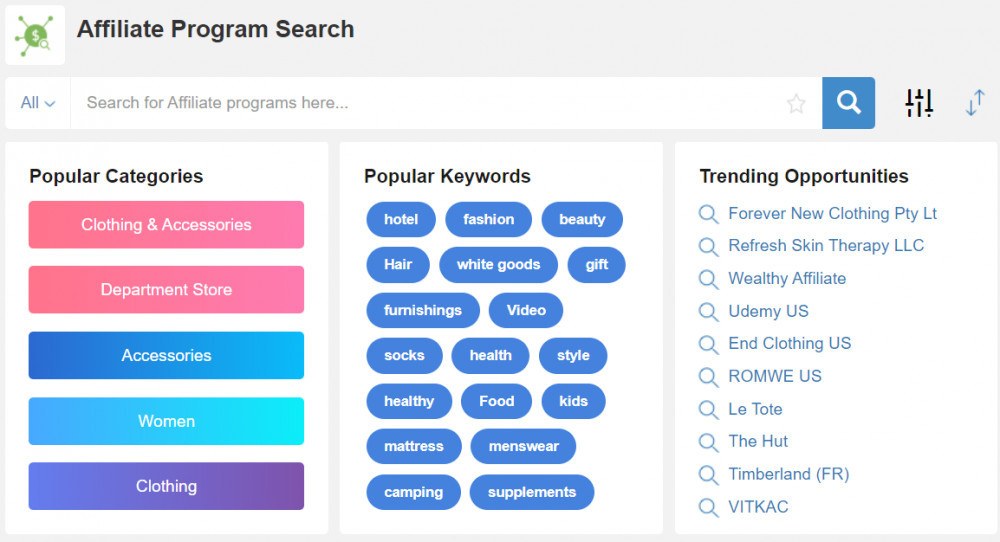 Conclusion
Affiliate marketing is a very lucrative business model for those who get it right. Choosing the right Affiliate program is critical to your success. Get it wrong and you could waste months or even years chasing a dead horse. Get it right and you can be living the laptop lifestyle quicker than you think.