What is a Virtual Assistant?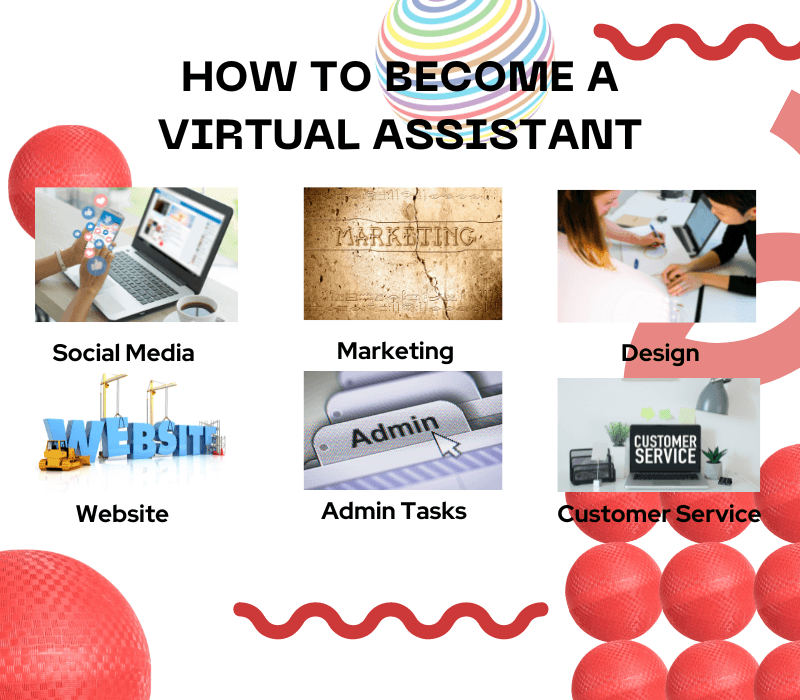 A virtual assistant is a freelancer who provides remote assistance to clients by providing administrative, technical, or creative services. Virtual assistants work with their clients remotely and jobs can be found online.
Virtual assistants are freelancers who schedule appointments, make phone calls, arrange travel, or organise emails. Deeping on your skillset you may provide other services like management of social media accounts, content creation, project management, and customer liaison.
The opportunity for freelancers is endless, any job using a computer and the internet can be completed by a VA.
Affiliate disclosure, some of the links on this site are affiliate links where if you follow a link and purchase the product then I will receive a small commission. Full disclosure is available here Affiliate disclosure.
How to Become a Virtual Assistant Online?
Virtual assistants are online professionals who offer a wide range of services to clients. Virtual assistants are hired by individuals, small businesses, and large corporations to handle administrative tasks and other time-consuming work.
The demand for virtual assistants is increasing day by day because of their efficiency, reliability and affordability. There are many ways to become a virtual assistant online. You can apply for jobs on different websites or you can create your own website and start working as an independent VA.
The simplest way to begin is to create an ad for your service and place it on Marketplace, Craigslist, or flyers around your local area. Many VA will create offers on Fiverr, and UPWORK because these are places where business owners visit to hire people for work.
When creating an offer make sure you review the other offers on your chosen site to provide you guidance on what your offer should look like and the pricing of your competitors. The main thing is to make your offer stand out and be similar but different from your competitors.
Credibility in the Virtual Assistant space is very important, one way to demonstrate your skills and show you are serious about being a Virtual assistant is to have your own website to showcase your skills and commitment to being a VA.
Your own website not only showcases your work but also elevates you in the opinion of the client, also provides additional income opportunities, and most importantly protects your business from being shut down.
What I mean by this is if you create accounts on business listing sites only then there is a risk that these sites will shut you down, because of something you did or something a client or potential client claimed you did.
There is so much flexibility with having your own website, you can create blog posts for your chosen market and receive free SEO traffic from search engines, and you can create short videos for syndication across social media.
You can create a free site here at wealthy affiliate to test the waters. I have moved my sites here for speed and cost-effectiveness.
How Much Can You Make as an Online Virtual Assistant?
As an online virtual assistant, you will have to be available to work at all hours of the day and night. You may be required to work on weekends or holidays and you may have to provide your own equipment like a laptop or a computer.
When you first start as a Virtual assistant your income will be zero but could grow to a significant income. The key to growing your income is to be consistent, meet deadlines, and offer amazing value for your service.
Recruiting firms indicate the average salary for virtual assistants is $58000 a year with a range of $15000 to $108000.
Benefits of Becoming an Online VA
Some of the advantages of becoming an online helper are:
– You can make money from home.
– You can work at your own pace.
– You can choose to work for a company that you believe in.
– You can build a relationship with your employer and earn trust over time.
– You may be able to claim work related deductions.
There are many intangible benefits to being your own boss besides these ones above. There is also the freedom, choice of what work you want to do, where you want to work, and low cost of entry.
Disadvantages of becoming an online virtual assistant
It's not all unicorns and rainbows becoming an online virtual assistant. Here are some disadvantages to consider:
It may take time to get your first gig
Until you get known your pay per gig may suck
The jobs you take might be boring
The people you work for may shit you to tears
Internet is everywhere but not always
Clients may set unreasonable deadlines
Your ratings are subject to your performance good and bad.
What are some Tips on Becoming a Successful VA ?
If you are looking to become a VA in this competitive market, there are a few tips and tricks you can use to help you get started.
First, it is important to be personable and friendly. You want your clients to feel comfortable contacting you and asking for help. Second, make sure that your social media profiles are up-to-date and professional. This will make it easier for potential clients to find you on the internet.
Lastly, stay organized! It is important that your work is well-documented so that if someone needs something from you they can easily find it.
Conclusion
If you are looking for the perfect career, then virtual assistance may be the answer for you. It is a lucrative opportunity that will allow you to work from home and enjoy many benefits like flexible hours, minimal commute time, and the chance to work with your own schedule.
There are some downfalls as previously describe, and it can work for some people. If you give it a good I wish you all the best and hope it does what you are looking for. If it doesn't pan out or makes enough money then consider my number one income stream.
If you are considering VA, then you already have the skill sets required to be an affiliate marketer, who by the way makes more money than a VA when done right. I' am giving away free training that teaches you how to be an affiliate marketer. If this is of interest to you simply click on the image below.