Print on demand is a print-to-order service with just in time fulfilment. Designers can upload digital designs, and customers can order physical products like T-shirts, Mugs, Doormats, Wall art, and 100's of other products.
No more are designers and customers limited to static designs on T-Shirts and Hats. Now customised elements such as first name and last name can be added to the design to fit customer needs, to make a unique item.
In this post we are going to explore:
What is print on demand
Pros and Cons
How to start a print on demand business
How to create your own designs
How to advertise your print on demand business
Affiliate disclosure, some of the links on this site are affiliate links were if you follow a link a purchase the product I will receive a small commission. Full disclosure is available here Affiliate disclosure.
What is print on demand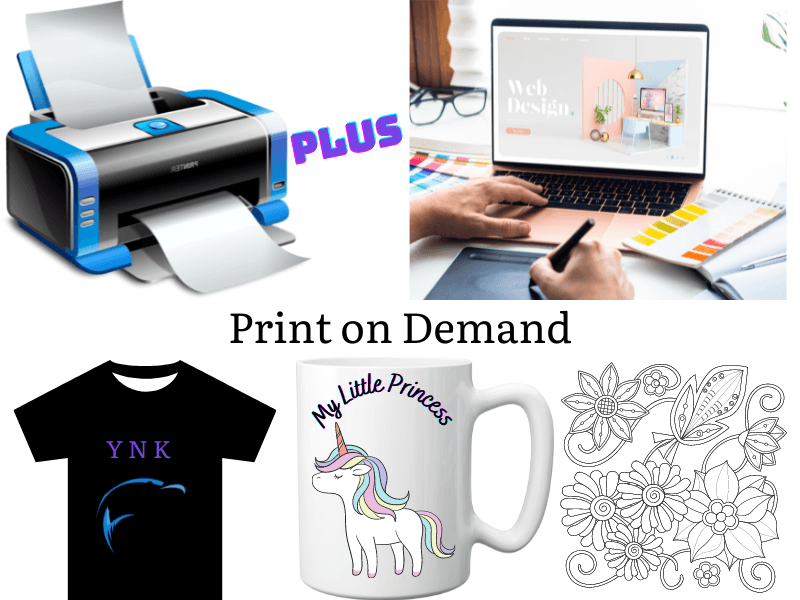 When browsing the internet you will come across products like Shirts, Jewelry, Watches, Metal art and 1000s of other products that have custom designs printed on them. When the consumer orders the product that is the signal for the manufacturer to create the product.
It is similar to someone taking a design to a craftsperson and asking them to create the item.
When the order is placed, the manufacturer will print the design onto the product that was ordered to produce the end result. On completion. the item is shipped to the customer by the manufacturer. This is what makes up the Print on Demand business model.
Print on Demand Pros and Cons
Pro's
Unique designs
Unlimited products
Cost effective
Cons
Product quality
Shipping times
Color Variations
How to start a print on demand business
A print on demand business lends itself very well to someone who is looking to create a replacement income for their 9 to 5. A print on demand business can be started as a side gig then scale to 6 or 7 figure business.
Creating 30 or 40 thousand dollar months is in the realm of possibilities with print on demand. The main element is being first to market with a product that emotionally connects with the niche you are targeting.
Most people however will not make that sort of money initially, $1000 to $5000 a month is more realistic and achievable.
Some people think, creative flare is a requirement for starting this type of business, but I'm here to say that it is not a mandatory requirement. The reason for this is it is easy to hire someone to design for you or get your designs from places like Creative Fabrica or Designbundles.net
Let's have a look at what you need to do to get started. The phases to getting started are:
Initial setup
Designing
Marketing
Initial setup is deciding:
Which niche or sub-niche will you target
Where will you display your designs
Which print on demand companies will you use
What software will you use to create your designs
Paid, Free or combination traffic strategy
Which niche or sub-niche will you target
A niche is a broad term to define a large market. For example, fishing, golfing, gaming, and pet owners. A sub niche is a subcategory within the niche, for example in fishing there is salt water and fresh water, these can be further broken down into bait and lure, shore and sea fishermen.
When you select a niche it is important especially for beginners to focus on a sub niche and perhaps a sub niche within, depending on the niche. What you're looking for is a niche that has suitable products for print on demand, has enough volume of interest, and you know something about it.
The reason you want to start with a tight focus on the niche is it makes it easier to decide if the niche is viable, easier to design for, and simpler to find out what their wants and needs are. These things are super important for when you start to drive traffic to your shop. More on driving traffic later.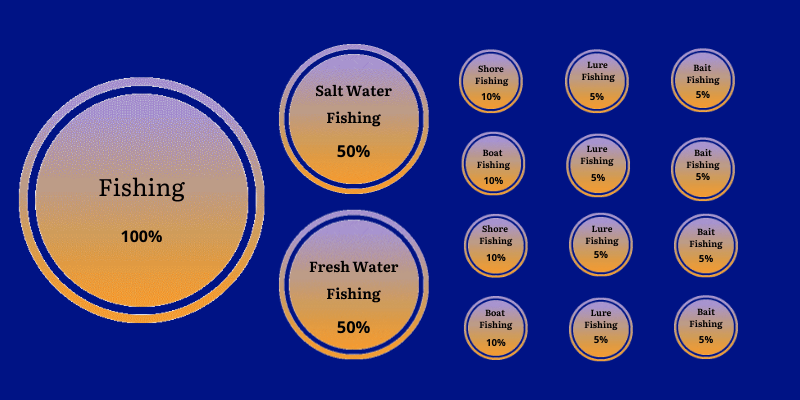 Where will you display your designs?
There are a few options for displaying your designs both free and paid. Most people when starting will begin with free options like Etsy, eBay and Amazon. These are great places to start and we would recommend Etsy for its simplicity plus how quickly a shop can be created.
Some print on demand companies will provide a shop front, but generally, they are not that great at converting.
The name of the game is conversions, you can have the best looking shop in your opinion but if it is not converting then it's not doing its job. If your shop is not converting what do you do? You fix it, but shops like Etsy, eBay and Amazon have limited options for functional design changes.
This is where Shopify comes in because with Shopify you can design the look and feel of your shop easily. Other features include analytics, customer loyalty programs, split testing, advertising on social media, collecting customer e-mails for contests, discounts and retargeting. All of these add to your bottom line.
There are other options for your shop, like WooCommerce and BigCommerce which can be put on your own website, with complete freedom to design these how you see fit.
How to create your own designs
Earlier I mentioned that this business can be done without any design skills, and that is true, but what you purchase from someone else may have been sold to 1000's of other people like you. This is not ideal because of the competition which reduces your income.
The way around this dilemma is to create your own designs or modify the designs you purchase, after checking the licence first. It's not that difficult to create cool designs for your niche. If you can write then you can design, give it a go. Here are 5 design sites we recommend:
1 Canva – this is the leading design product for creating designs for your pod business. There are two membership levels free and paid ($12.99 a month). The free version will do nicely until you begin to scale your business and want to do more detailed designs.

2 Photoshop – Photoshop is a beast and takes dedication to learn it fully, but there is so much that can be done in photoshop. In the POD space, photoshop is fantastic for creating stunning unique designs that can not be done in Canva or most other design tools.
3 PhotoPea – Is equivalent to a cut-down version of photoshop
4 Open Clip Art – technically not a design tool but has 150000 clip arts that you can use for commercial use within your design tool. Very handy.
5 Placeit – Most users use this tool for mockups (Hint) but there is a very functional design tool inside this site.
Where to find print on demand companies
Do a web search for print on demand companies and you will find a plethora of companies to choose from. If you are just getting started it is recommended to use the main players in this business. Here are 5 we recommend:
Printify
Shineon
Printful
Teelaunch
CustomCat
How to make money with print on demand business
So far we have discussed the elements of print on demand business, with all of the elements essential but potentially worthless if you can not get traffic to your site. The other thing that is important is consistency in creating new designs each week.
Where traffic is concerned, you want the right type of buyer focused traffic to your site. There are two options paid or free traffic. Each option can be applied on google with paid ads or free with Search Engine Optimization. Most social media sites have paid and free strategies that are effective.
Free Traffic strategy
Here is one way to get started with free traffic that will give you consistent results. The first thing you are going to do is create accounts using your shop's name on TikTok, YouTube, Facebook, Instagram and Pinterest. Make sure each account links back to your shop.
Next, make a short less than 60 second video for TicTok about your products. This can be done with your phone or in Canva. If on your phone use CapCut to edit the video. Make sure video asks viewers to like follow and share.
When posting to TicToc make sure you have relevant hashtags. There are two ways recommended. Search for the top trending videos in your niche and use their hashtags or visit https://www.tagsfinder.com/ and find your own.
Once TikTok is done share the video with all the other social accounts. For maximum effect, it is recommended to do 3 to 5 videos a day shared across all these accounts. If you can not do 3 to 5 videos a day then do what you can but at least do.
Conclusion
Print on demand is one of those businesses that have the capacity to exceed your wildest dreams. Yes, there is a lot of competition, but also unlimited opportunity. If you are looking for an opportunity that carries no inventory, has minimal interaction with customers and is scalable to 7 figures then you need to start your POD business today.